Provider Watch October 13, 2016

Orange Duffel Bag Initiative
"Hearing our ODBI students make comments like 'Encouraging!' and '1,000 Thank Yous!' we're grateful Team Orange continues to grow on our amazing journey together. If you're receiving this newsletter, you've played an important part in our growth and have helped make a positive difference in the lives of more than 775 of Georgia's most vulnerable high school and college students. Thank you for being part of the journey!" Diana Black, ODBI Vice President
ODBI After School Class 26 - Metro Atlanta
"Encouraging!" "Great!" "Inspirational!" Metro ATL high school students in foster care attending Class 26 had amazing things to say about opening day.
Classes are held at Atlanta Technical College with incredible coaches Luis Castro and Robin Crawford guiding students on a transformational journey of new perspectives, growth, choices, possibilities and opportunities! Over the next 11 sessions students develop their individual life and education plans for their future success.
Program Manager Scott Patrick works his magic to ensure students have the best experience possible. Class 26 Team Orange advocates are David Burns (pictured with students during a team building activity), Shakur Walker and Jeana Brown. Class 26 is a collaboration with GA Department of Human Services Independent Living Program and Atlanta Tech.
Coaching for College Completion - New at KSU
Fridays this fall find Coaching for College Completion (CCC) Classes conducted at both Atlanta Tech and Kennesaw State University! ODBI's postsecondary program CCC Class 10 is led by our outstanding ODBI Coach Aaron Wright. This is the third class at ATL Tech helping at-risk college students stay on track to achieve postsecondary success.
CCC Class 11 is our first at KSU! Our awesome Coach Robin Crawford is at the helm to guide these college students on their journey for radical change and transformational success. CCC connects students to educational resources, new perspectives, choices, possibilities and opportunities! Team Orange advocate Marj Economopoulos is volunteering her time, heart and talents. CCC Program Manager Malcolm Paterson coordinates all the logistics with his usual expertise. Special thanks to Marcy Stidum at the KSU Care Center for her commitment to student success and pulling it all together. CCC is in partnership with United Way of Greater Atlanta and Carrie Steele Pitts Home.
ODBI Grad Spotlight: Mariah Campbell - Aloha!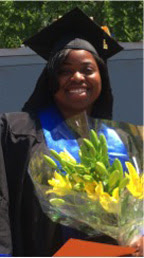 CCC Class 1 grad Mariah Carey Campbell received her Bachelor's of Science degree from Georgia State University in May and is now pursing her Master's in Business at Hawai'i Pacific University.
"CCC is an immense reason I graduated. This program was a true game changer for me. You gave meaningful advice and made a big difference in many ways. I am sharing with others what you all shared with me so the ODBI continues to be carried. I plan to earn my Master's and work hard to get an amazing internship or assistantship, then earn my Doctorate of Education and continue to change the world and make a difference! 1,000 Thank Yous!"
Thank YOU, Mariah.
ODBI Partners with USG in 7-Year GEAR Up Grant
Through the amazing efforts of University System of Georgia, Georgia was selected to receive its first ever Statewide 7-year GEAR UP Grant from the US Department of Education. GEAR UP partnerships and state matching grants are inspiring examples of communities taking a stand for excellence and equity in education, investing in student success.
The matching grant will partially pay for at-risk high school students to receive ODBI programs. We ask our donors and corporate partners to join us in this strategic effort and help us raise the additional funds needed for the students. We will be reaching out with more details soon!
ODBI nationally recognized in Youth Today article
To read article, please click below:
ODBI 12-week program at Middle Georgia State University, in Macon, Georgia, opens with a session by Coach Luis Castro, leading high school participants through a circle activity, where they share personal stories and bold visions for the future.
ODBI Partner Appreciation Event - Day of Gratitude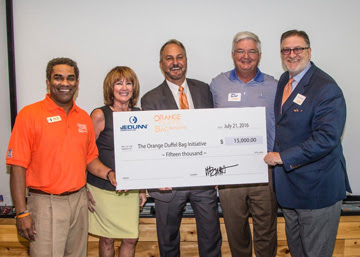 ODBI honored its donors, partners and alum during an appreciation luncheon in July hosted by ardent supporters JE Dunn Construction and John Silvey with Zaxby's of Marietta.

"This is our day to say thank you," said Michael Daly, ODBI president, welcoming more than 80 attendees, including partners and supporters Gwinnett Technical College, Atlanta Tech, Georgia University System Board of Regents, The Technical College System of Georgia, Carrie Steele Pitts Home, Action Ministries, Civil Sites Services, Cornerstone Masonry, Repro Products, Dr. Allen Ecker and Coach Bill Curry.
JE Dunn Check Presentation! (Above) Pictured L-R: Reggie
Pope (JE Dunn/ODBI Treas), Diana Black, Michael Daly, JE
Dunn Executive Vice President Mike Bartlett, Sam Bracken
The nonprofit's co-founder Sam Bracken expressed gratitude to all who helped ODBI positively impact the lives of 700+ of Georgia's most vulnerable students. JE Dunn, Primerica Foundation and Dr. Lana Wachniak and Bill Wallace spoke on behalf of their continued support of Georgia's underserved students when each presented ODBI with a generous donation.
ODBI Graduates Ann Campbell,Katrina Ogelsby, Mariah Carey Campbell, Q Guiard and Johnathan Hill were recognized and graciously shared their Team Orange journey. Primerica presented each of the attending ODBI grads an executive portfolio.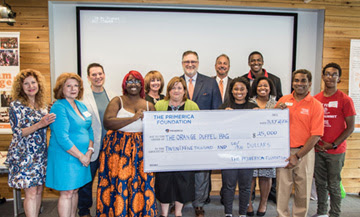 ODBI is equally appreciative of the following partners and donors:
Jackson Family Foundation, Xerox Foundation, Perkins Ponder, Florence Maxwell Foundation, Peyton Anderson Foundation, Alston Bird, Craig Baltes, the Doris Clements Family, Birnbrey, Minsk, Minsk & Perling, Gwinnett Rotary, North Perimeter Optimist Club, Bible Charts & Maps, Middle GA State University and Central GA Technical School.
Primerica and ODBI Grads! (Above) Pictured L-R: Echo Garrett
(ODBI), Margaret Halbert (Primerica), Joe Bushey (ODBI),
ODBI Grad Ann Campbell, Diana Black, Anne Soutter
(Primerica), Sam Bracken, Michael Daly, ODBI grads,
Katrina Ogelsby, Mariah Carey Campbell, Q Guiard,
Reggie Pope and ODBI grad Johnathan Hill.
Pictured L-R: Echo Garrett, Sam Bracken, Diana Black, Michael Daly and ODBI supporter/donor Dr. Allen Ecker

Pictured L-R: Echo Garrett, Joe Bushey, Reggie Pope, Diana Black, Sam Bracken, donors Dr. Lana Wachniak and Bill Wallace and Michael Daly

Event photos: Kevin Garrett

Pictured L-R: Echo Garrett, Diana Black, Sam Bracken, Coach Bill Curry, Michael Daly, and Reggie Pope

Pictured L-R: ODBI coach Aaron Wright, Advocate Chris Harris, Diana Black, Advocates Zoe Howard and Marj Economopoulos, Robin Crawford (coach), Mareena Whisby and Program Manager Scott Patrick

4th Annual ODBI Charity Golf

Event with Coach Bill Curry

ODBI is so fortunate to have the support of our

Board Treasurer Reggie Pope at JE Dunn, who rallies his construction colleagues to contribute to our annual golf event which supports our work and the students we serve! Special thanks to JE Dunn - Diamond Sponsor, Civil Sites Services and Cornerstone Masonry Group - Gold Sponsors, Repro Products, InTouch Interactiveand all of the hole sponsors and golfers who participated! We exceeded our fundraising goal. Way to go Team Orange!!

Kudos to Coach Bill Curry, Echo Garrett, Joe Bushey, Liz Schoen, Elizabeth Lester, Scott Patrick, Dwayne Kasper, Alisha Alford andStephanie Burnside!

5th Annual Golf Event - August 21, 2017 - Register to Play and/or Sponsor click here!

Event photos: Dwayne Kasper

Rally Call! Raising Funds for Student Laptops, Meals & Transportation

Help us help those in need succeed!

We are raising funds for homeless high school students who will be attending ODBI 2017 afterschool classes. Any donation amount is welcomed and appreciated.

Thank you, Thank you, Thank you! Click to make a donation

Did you know "gifting" stock has become a popular way for investors to be charitable to their favorite cause?

Before December 31 arrives, decisions about charitable giving should be finalized to take advantage of year-end tax savings.There is an advantage to gifting your favorite charity an appreciated stock. Instead of paying capital-gains tax on what the stock has gained over the years, you can gift it to a charitable cause like ODBI and avoid paying capital-gains tax. A win-win for all!

GREAT NEWS - Good Financial Stewards

ODBI 2015 Independently Audited Financials show we again reached our benchmark and maintained best practices in that more than 85 cents of every dollar donated goes to programs serving our students!

The Orange Duffel Bag Initiative

1801 Peachtree Street NE Suite 300

Atlanta GA 30309

Copyright © 2016. All Rights Reserved.

The Orange Duffel Bag Initiative (ODBI) is a 501c3 public charity that improves the outcomes and education success of high school and college students who are homeless, in foster care or experiencing high poverty.

EIN 27-1845671

Questions or need more info? Email:
---
An email newsletter as a public service Editor




The Georgia Conference on Children and Families - November 2-4, 2016